Enclosures
Trinity Touch provides a comprehensive range of products for energy distribution requirements within industrial Applications. We have a vast range of standard solutions which have been developed keeping in mind the diverse requirements of the industry and the regular feedback we have received from our customers. The standard solutions include a wide variety of Junction Boxes with Terminals block, Push Button Stations, Surge Protection, Power Distribution Assemblies, 3-Phase Motor Starters and Power Interlock Distribution Assemblies. We can also offer a wide range of tailor made solutions to meet the key needs of our customers.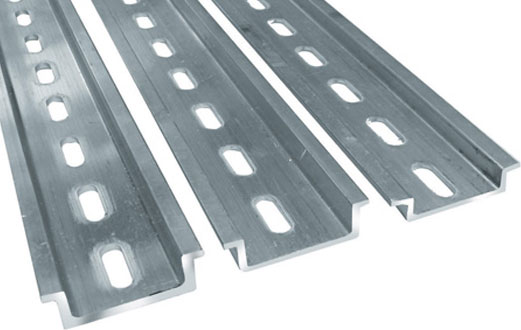 DIN Rails
DIN Rails are designed in accordance with the European Standard EN 60715 using state of the art production processes to ensure high dimensional accuracy, restricted tolerances and outstanding surface tempering. The DIN Rails are available in standard lengths of 1M and 2M or to required lengths* with or without perforation. We also offer universal DIN Rail cutter.In accordance with IEC 60 947-7-2, DIN Rail made of steel may be used as equipotential busbar (PE function), but without PEN function. Our entire range of DIN Rails are RoHS & CE Compliant.
TDR3 (Third Generation Passivation) This series of DIN Rail is for industrial application conforming to the European standard EN 60715 with THIRD generation passivation of Cr+ Iridescent color, higher thickness film 300nm~400nm, SST stability of 240Hrs. It has an advantage of being fluoride free, organic acid free and has a low metal concentration and improved corrosion resistance.
TDR2 (Second Generation Passivation) This series of DIN Rail has SECOND generation passivation of Cr , silver chromated, higher film thickness of 200nm~400nm SST stability upto 240 Hrs, and improved corrosion resistance as compared to the FIRST generation passivation.
Cable Glands
Cable Glands is a device to permit the firm and secure termination of cable to provide sealing, retention and earthing,bonding, grounding, insulation, strain relief or combination of all these. They are used throughout a number of industries in conjunction with cable and wiring used in electrical instrumentation and automation systems.
Flexible Conduits & Accessories
Flexible conduit is commonly used for the protection and containment of vulnerable electrical cables, wiring and fibre optics. It is an extremely effective form of cable management, available in a variety of systems, which can cope with a diverse range of environmental factors and operating conditions. With a comprehensive stock holding we strive to deliver service excellence to meet our customer demands faster, ensuring you can count on us.